Polly Jean Harvey has released a one off single as a protest to the lengthy detainment of Brit Shaker Aamer. Shaker Aamer is pretty straight forward and spare, which reflects the sense of isolation and helplessness that Harvey is trying to convey through mournful yet sing-songy lyrics.
It's good music, and even if you are not familiar with Aamer's prison sentence at Guantanamo, this may give you a brief insight to his plight.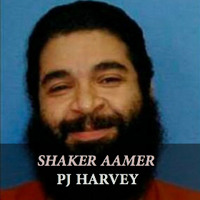 The lyrics:
"No water for three days.
I cannot sleep, or stay awake.
Four months hunger strike.
Am I dead, or am I alive?
With metal tubes we are force fed.
I honestly wish I was dead.
Strapped in the restraining chair.
Shaker Aamer, your friend."
In Camp 5, eleven years.
Never charged. Six years cleared.
"They took away my one note pad,
and then refused to give it back.
I can't think straight, I write, then stop.
Your friend Shaker Aamer. Lost.
The guards just do what they're told,
the doctors just do what they're told.
Like an old car I'm rusting away.
Your friend, Shaker. Guantanamo Bay."